Please click here to access the full QIR report.

          Performance summary
September saw increased volatility in markets worldwide, including some concerns about supply and inflation. US equity markets ended the month some 5% lower than at the start and essentially flat over the quarter. However, they are still up 10% over the year to date. As we have said many times, saving in a pension is, for most members, a long-term business. Recently we have slightly increased the percentage of money invested in infrastructure, but Nest's diversified investment approach and our carefully selected strategic asset allocation weightings are designed to cope with market volatility and deliver good long-term returns for all members. Our funds all show positive returns over quarter 3. The exceptional yearly performance figure to 30 September 2021 for our 2040 and other Growth funds continues to reflect the recovery from the spring 2020 Covid volatility.
Members in the growth stage of their saving with Nest, as represented by our 2040 fund, have received annualised net returns over the 5 years to 30 September 2021 of 8.5% and annualised returns of 9.3% since the launch of Nest in 2011. This has been achieved in addition to protecting members from volatility when they are close to retirement by the de-risking inherent within our Consolidation phase.
Corporate Adviser has recently published risk and return data for all leading DC pension schemes and providers on their capaDATA website. Their latest figures are to 30 June and again show Nest as delivering above average returns whilst at the same time not taking as much investment risk as most other schemes and providers. We believe this is a reassuring message for all members, employers and advisers. The chart below shows the risk and 5 year annualised gross return for a member 30 years from retirement with other examples available on the capaDATA website.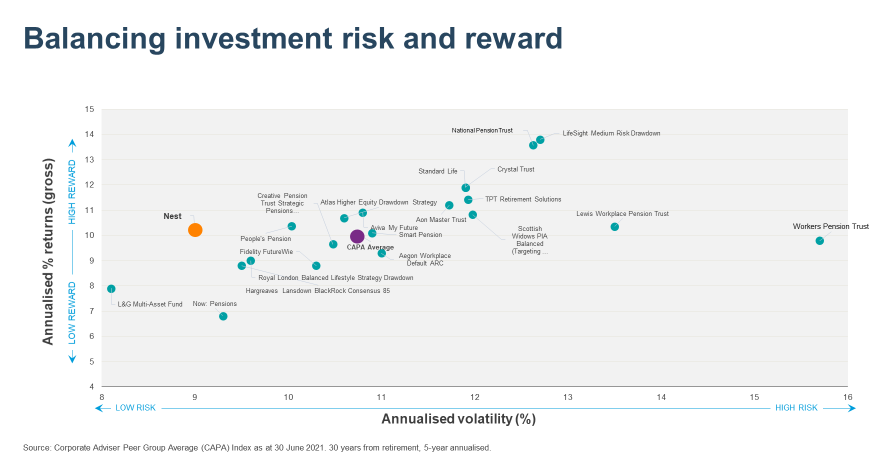 Nest now invests over £20.9bn on behalf of our members, making Nest one of the biggest pension schemes in the UK and giving our members access to the kind of investments that are usually only available to the largest investors, including investments that aren't listed on the market. Our members also benefit from deals that only large investors get, allowing us to keep our charges low. And by keeping charges low, more of members' money gets invested, meaning there's more to grow.
         Please click here to access the full QIR report.
          Responsible Investment highlights
Corporate Adviser and other media outlets have recognised the fact that Nest has become one of the first signatories of the Financial Reporting Council's (FRC) new UK Stewardship Code 2020. The UK Stewardship Code sets high standards for those investing money on behalf of UK savers. It comprises a set of 12 principles on reporting stewardship activities and outcomes which asset managers and asset owners like Nest must demonstrate they meet.
Commenting on this development, Diandra Soobiah, Nest's Head of Responsible Investment, said:
"We're delighted to be recognised as signatories to the FRC's new UK Stewardship Code. At Nest, we have been integrating ESG factors into our investment approach and undertaking stewardship right from the beginning, from manager selection to engaging directly with the companies we invest in. 
"Stewardship is key to Nest's responsible investment approach, and we're pleased to see our engagement strategy achieving good outcomes, encouraging a global bank and an oil and gas company to set net zero and Paris Agreement-aligned emissions targets.
"We're committed to sharing information on our approach and showing the outcomes achieved , to help drive best practice and engaged stewardship across the pensions industry, and we're pleased to be signatories to a Code setting high standards for stewardship across the board.
"Our members expect us to invest their money responsibly and that's what we'll continue to do. Whether that's by voting at annual general meetings or engaging directly with executives, we'll continue to make our members' voices heard in the boardroom."
Search for private equity fund managers
In August Nest launched a new procurement inviting fund managers to provide solutions for investing in private equity. For the past couple of years Nest has steadily added private market assets into its investable universe, from issuing private credit to mid-sized companies to investing directly into infrastructure projects. We want private equity to play an important role in our portfolio, offering strong returns and diversification. Stephen O'Neill is leading this work for Nest. The focus of this procurement is on accessing growth private equity. Nest wants to support companies which are growing and seeking new capital to help fund that expansion. In return Nest can benefit from the additional profitable revenue the business generates, and also achieve considerable diversification benefits from this allocation.
Our goal is to help members achieve a bigger pension in a better world.
The value of investments may go down as well as up and the return of your investment is not guaranteed. Fluctuations in financial markets, currencies and other risks may cause fluctuations in the value of investments. Any fund objective or target should not be considered as guarantee of performance of any fund. Derivatives may also be used for efficient portfolio management purpose.
This document does not constitute advice on whether to invest in these funds. Neither this document nor any data contained within this document is intended to constitute investment advice or a recommendation to make (or refrain from making) any kind of investment decision and may not be relied on as such. You may wish to consult with an appropriately qualified financial adviser in relation to your investments and any change to them.
This document has been created by National Employment Savings Trust (Nest). This document is valid as at the date of its publication. This document and data contained within this document is provided for information purposes only and may not be reproduced or extracted or used for any other purpose.
This document includes and/or is based on data that is owned by and obtained from third party sources. Data from third party sources is provided "as is" and is not verified by Nest. Additional disclaimers which apply to the third party data are available on our website nestpensions.org.uk
No undertaking is given, or representation or warranty is made, express or implied, by Nest or by any third party source that the information in this document is current, accurate, complete or error free, and the information must not be relied upon as such. Neither the third party sources nor Nest accept responsibility for any loss caused to any recipient of this document as a result of any error, inaccuracy or incompleteness of this document or as a result of any third party data.
© Nest Corporation 2021
* The transaction costs include both explicit and implicit costs (where applicable)