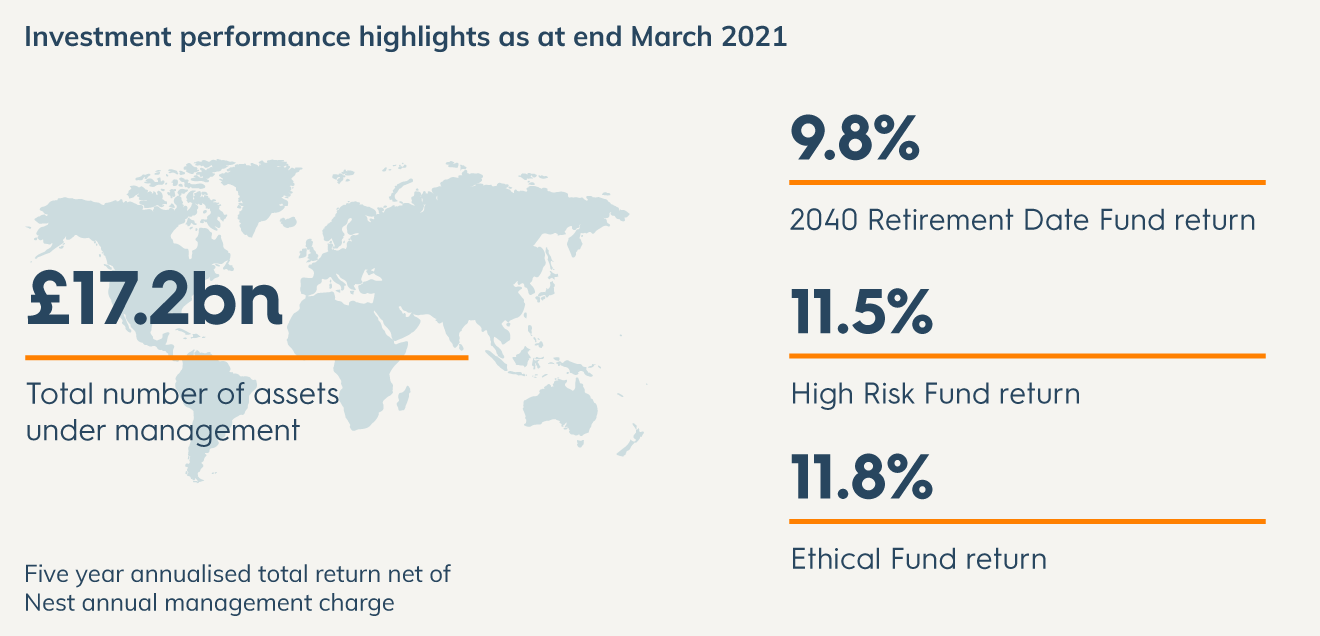 Nest funds performed well again in quarter 1 2021 and our funds show strong annualised performance over 5 years which helps achieve our goal to give employers and their employees more from their pension. Nest now invests over £17bn on behalf of our members, making Nest one of the biggest pension schemes in the UK. This enables us to give members access to the kind of investments that are usually only available to the largest investors, including investments that aren't listed on the market. Our members also benefit from deals and low charges that only large investors get.
And by keeping charges low, more of members' money gets invested, meaning there's more to grow.
Research shows that most people want their pension invested in a way that tackles climate change. Nest agrees and is taking steps to ensure that by 2050 the companies and organisations we invest in are net zero on carbon emissions when viewed collectively. This is in line with Government and international agreements to limit global warming. Nest was the first UK pension scheme to announce this.
In March we appointed the specialist company, Octopus Renewables, to invest some of our members' money in renewable energy investments, mainly wind and solar energy companies. Investing in British green energy means our members will be investing in projects they can see and touch, a tangible connection to their pension and a way out of the climate crisis. The strong foundations of this kind of investment should help them achieve great returns for their future while directly investing in the future of the planet. Nest will be making further announcements about other initiatives soon.
At the end of 2020 we also hit two key milestones for our climate change policy: we implemented our exclusions of companies and issuers deriving more than 20% of revenues from thermal coal extraction or power generation, oil sands and arctic drilling. We also wrote to all our fund managers setting out short-term objectives for their mandates to transition in line with our climate change policy. Both our developed and emerging market equity funds have transitioned to climate-aware portfolios, we are finalising the transition of our investment grade bond portfolio to climate-aware, and we are working with our high yield fund manager on an approach to portfolio alignment by the end of Q2 2021.
Our goal is to help members achieve a bigger pension in a better world.
It is possible that there will be further volatility in investment markets this year. However, as we have said before, the Nest investment approach has been designed to cope with this. To generate good returns, it is necessary to take some investment risk. This is evidenced by the good returns from Nest compared to the rates of interest available from bank and building society accounts. By our size and our ability to invest in a wide range of investments, we will continue to manage risk for our members.
Please click here to access the full QIR report.
The value of investments may go down as well as up and the return of your investment is not guaranteed. Fluctuations in financial markets, currencies and other risks may cause fluctuations in the value of investments. Any fund objective or target should not be considered as guarantee of performance of any fund. Derivatives may also be used for efficient portfolio management purpose.
This document does not constitute advice on whether to invest in these funds. Neither this document nor any data contained within this document is intended to constitute investment advice or a recommendation to make (or refrain from making) any kind of investment decision and may not be relied on as such. You may wish to consult with an appropriately qualified financial adviser in relation to your investments and any change to them.
This document has been created by National Employment Savings Trust (Nest). This document is valid as at the date of its publication. This document and data contained within this document is provided for information purposes only and may not be reproduced or extracted or used for any other purpose.
This document includes and/or is based on data that is owned by and obtained from third party sources. Data from third party sources is provided "as is" and is not verified by Nest. Additional disclaimers which apply to the third party data are available on our website nestpensions.org.uk
No undertaking is given, or representation or warranty is made, express or implied, by Nest or by any third party source that the information in this document is current, accurate, complete or error free, and the information must not be relied upon as such. Neither the third party sources nor Nest accept responsibility for any loss caused to any recipient of this document as a result of any error, inaccuracy or incompleteness of this document or as a result of any third party data.
© Nest Corporation 2021