At Nest we continue to provide a high-quality, low-cost pension scheme suitable for everyone. Over 70,000 new employers chose Nest in 2022 and we think it's because we continue to put you and your workers' needs at the heart of our offering.
Engaging your workforce with their pension
Our employee engagement toolkit is free to use and will help you make pensions part of your employee communication strategy. From telling us who should inherit their money to realising the power of their pension investments, it's designed so that your employees can understand and appreciate pensions as part of their benefit package.
Supporting Nest savers through the cost-of-living crisis
The cost-of-living crisis has the potential to continue to affect financial markets. As the UK's largest workplace pension provider, we're well placed to weather those potential risks. Our investment strategy is carefully designed to take these kinds of short-term issues into account, helping our members' pension pots weather the years or decades they'll be saving.
Nest research indicates that, even in the current economic climate there will be no increase in the likelihood of our members stopping contributions to their pension. However, we still recognise that, in these uncertain times our members will have plenty of questions about their pension. With this in mind we have built a web page to help support them.
How does Nest's investment performance compare in the market?
The latest Corporate Adviser Pensions Average (CAPA) data, from Q3 2022, is shown in the chart below. It continues to show that Nest is delivering returns above the market average and doing so at significantly lower levels of investment risk, particularly when compared with the other top 10 defined contribution pension providers.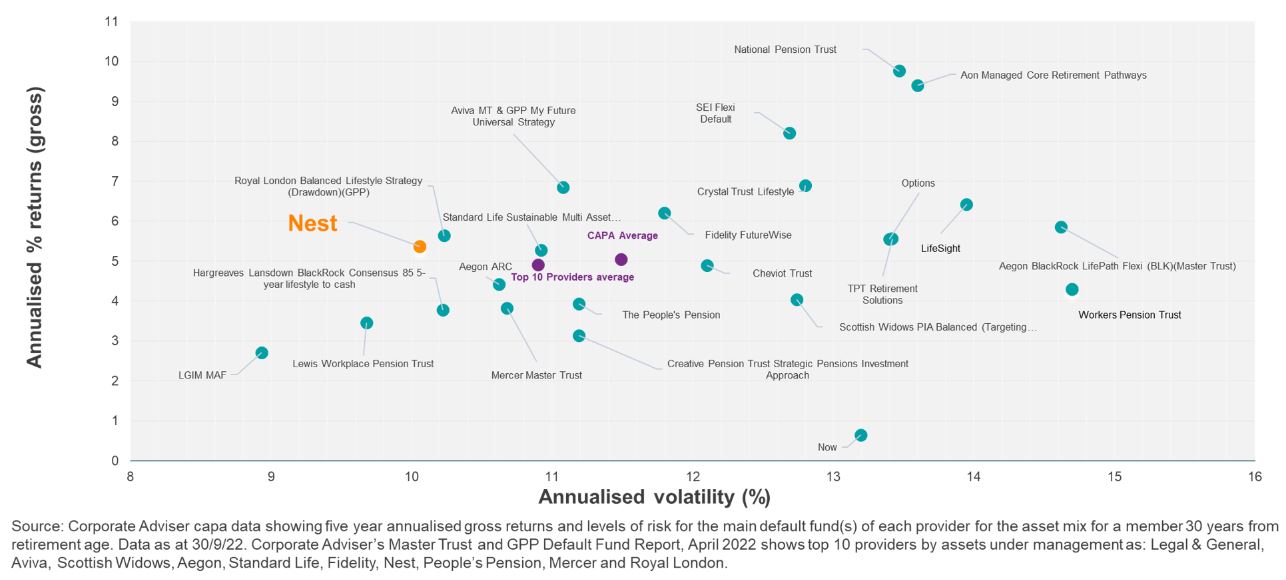 Helping you avoid late payment notifications
Employers have a legal obligation to ensure pension contributions are paid and invested in the pension scheme by their payment due date. Failure to do so may result in employers being reported to the Pensions Regulator, which can be stressful.
To help make sure this doesn't happen to you, there are useful hints and tips and a short video here.
Helping your workers understand their pension
Whether it's improved financial wellbeing or easier retirement planning, making pensions simple benefits your workforce. We've created a video for you to share with your workers that clearly explains how their pension works. It covers all the basics, like who contributes to their pot and how Nest aim to grow their money.  In our employee engagement toolkit in the 'Learning the basics' section you'll find a link to the video and a set of templates to help you promote it in your workplace.
Automatic enrolment limits
The automatic enrolment earnings trigger determines who is eligible to be automatically enrolled into a workplace pension by their employer in terms of how much they earn. There is also a qualifying earnings band in respect of which contributions are made.
In January 2023, DWP published their review of the automatic enrolment earnings trigger and qualifying earnings band for 2023/24. This confirms that Government has decided to maintain all AE thresholds at their 2022/23 levels.
The lower limit of the qualifying earnings band for 2023/24 will be £6,240 and the upper limit will be £50,270.  The earnings trigger will be maintained at £10,000 for 2023/4.
If you would like to know more please visit Review of the Automatic Enrolment Earnings Trigger and Qualifying Earnings Band for 2023/24: Supporting Analysis – GOV.UK (www.gov.uk)
An award-winning pension scheme           
We're proud to be recognised for delivering one of the highest quality workplace pension schemes in the market and we are delighted to recently win the following accolades.